Video is the new king in the field of content. YouTube channels, webinars, online workshops etc. have become the new normal in the world and it's no different for the legal industry. Why? Because people engage more with videos than any other form of web-based content like articles, photos or infographics. This guide on "video marketing for lawyers" will help you develop a concept and provide you with some actionable tips for producing the video and measuring your success with video marketing.
So, how do you leverage video content to grow your practice?
Many lawyers do not understand how can they effectively utilize video marketing to enhance their digital visibility.
Do not worry! We at Altclik would tell you how a webcam and microphone can help you land clients! Keep reading!
Why Video Marketing for Lawyers?
A video is more impactful than written text. Watching even a 3-4 minute video-clip leaves a lasting impression on the viewer's mind. Even though video marketing is a relatively new marketing trend in the digital world, its popularity is sky-rocketing. It has a wider reach. People can watch videos anywhere : while travelling, before sleeping and even while working out! 
According to official YouTube statistics from February 2017,  YouTube garnered more than 1 billion viewership hours per day. One can reach a vast audience, all of whom are regular YouTube users, through video marketing. Video marketing dominates because it gets results.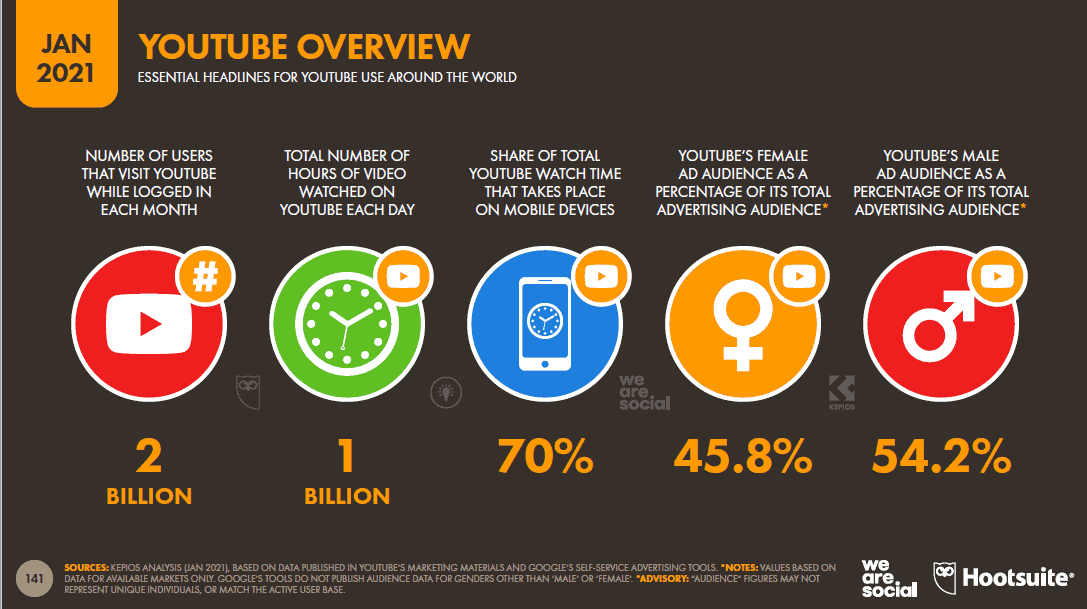 Source: Hootsuite
Not just YouTube, even on platforms like LinkedIn, video marketing is proving to be effective. Video is the most re-shared form of content on LinkedIn. If you want other LinkedIn members to help spread your message for you, video is the way to go. The relevance and role of video marketing in improving lead generation and conversion is undeniably crucial.
The second reason for using video marketing is that it is easy and contributes to developing a reputation.
Users find it easy to watch videos related to their problems. If you are a lawyer who can explain the solution in simple words, you may have landed yourself a future client!
The other benefits of Video Marketing are –
     

Improvement of SEO and search rankings on engines like Google and Bing

     

Improved engagement with the target audience

     

Persuade potential clients that you're the right person for their needs
Key Benefits of  Video Marketing for Lawyers
Before we discuss the specific strategies to develop a video marketing campaign, let us look at the goals that video marketing helps us achieve:
Educating and reaching out to the potential clients
A video can go viral at a mere click. One can see a video virtually from anywhere and hence, it has a massive reach. It is simple and easy to understand and one can just listen to it in their free time. It is also relatively cheaper to engage in video marketing through social networks.
Informative videos can help in increasing the reach and factoring in potential clients. A 5-10 minute short video, explaining a legal concept or the latest judgment or a pertinent legal issue, is just the right capsule which people require. It is short enough to hold the audience's attention span and at the same time contains just about the right information.
Different videos for different category of cases could be informative for potential clients from diverse industries.
Helping in the creation of a brand
It is common that people are intrigued by videos and find it easier as part of their research process to look for a potential law firm and a lawyer who could represent them.
Besides informing the potential clients, video content on the internet would also help  creating a brand for the lawyer or the law firm. This would help in establishing and installing a more personal connection with your potential clients as they would feel virtually connected with their lawyer or the law firm.
Video content could help in improving SEO for your website
With an increase in internet access more people are getting online, it becomes indispensable for any lawyer or law firm to create and spread out their video content out there.
Since people find easier to procure the information from videos, therefore, it is a natural cause-and-effect relationship that website with more video content would attract more traffic towards itself which would help in  further increasing the SEO for the website and in turn, its reachability, making it easier for people to find the website and the relevant content with a simple google search.
How to Use Video Marketing to Engage With Potential Clients?
Create a YouTube channel
Creating a YouTube channel is free! You can create your own YouTube channel by following a few simple steps.
The next obstacle is, what content to upload and how to ensure your YouTube channel reaches a wide audience?
Focus on what services you are offering and structure your content around the same. Share your YouTube videos on your professional network such as LinkedIn.
You can also create a WhatsApp or Telegram group and circulate your videos there. No one minds free resources and you get to reach a wide variety of audience.
Ensure the script and editing of the video are effective
A good script is essential for keeping the audience glued to their screens.
A good script should ideally include short and crisp sentences without any unnecessary legalese. Present the information in bullet points.
A very detailed presentation may bore the audience. Use visual aids and animations to keep the video interesting.
Video Introduction on the main page of your website
Instead of writing a detailed description of your services or about your firm, you can have a short video, where your founder can come and put across the reasons why your firm is unique.
This shows potential clients that the firm is not wary of using technology and at the same time, saves the time of the client. They get everything they need to know through a 5-minute video!
Creating vlogs
A lawyer could highlight his recent courtroom experiences, the kinds of cases that he has been dealing with recently, any interesting anecdote with a particular client, his opinions and thoughts on a particular domain of law, a general tour of the office., etc.
Webinars
What is not `Live' is dead! Go Live! Interact with your audience through webinars. Answer their queries and tell them how the law works.
A webinar goes a long way in making your name known in the relevant circles. You can also associate with other brands and collaborate to conduct a joint webinar.
Tips for Effective Video Marketing for Lawyers
Types of video content
There are various examples of lawyers worldwide using video marketing across social platforms and various types of video content.
You could choose a fairly detailed explainer to breakdown complex laws  for the common man. Questions you deal with in your video can range from simple queries such as registering property to complex issues such as incorporating businesses. 
A completely different take on video marketing is through stand-up and comedy. Either through sharing snippets of a podcast on LinkedIn or a segment where the lawyer discusses lesser-known laws with a comedic outlook or, you could always pursue thought leadership videos of the firm's lawyers' sharing their perspectives on industry updates and dissecting current trends.
Firms and practitioners that share industry insights and answer common questions with their videos are highly likely to attract returning visitors.
Target audience
Before making any video, it is helpful to perform keyword searches. This would help you assess what content to design your videos around. It helps you understand what your audience is looking for.
You can do this either yourselves or by using tools like TubeBuddyTags for YT cockpit. These services allow you to customize your videos to consumer preferences. This helps with the search rankings of your videos on YouTube as well. Otherwise, the video gets lost on the internet.
Writing a script 
Once you have identified your target audience, the next step is to come up with a concept for the video and invest in writing a good script for your videos. Different platforms have different types of viewers.
For example, people prefer watching videos on Facebook with the sound off which is a sharp contrast to watching videos with the sound on YouTube.
Even if you're a confident speaker who does not need a script, it is highly recommended to have at least pre-decided and researched talking points to maintain the video's crispness and quality.
 A good script should ideally –
Include a bullet-list of general points that you'll cover when addressing the camera (you don't want it to sound like you're reading but it may take some practice).

Introduce the subject of the video very early for educational and how-to videos – otherwise, viewers won't hang around.

Be as conversational as possible – Simple language helps in capturing attention for a longer time.

Keep sentences short and to the point.

Avoid jargon and legalese.
Do keep timing in mind – 350 words usually equates to two minutes of audio. Additionally, if you're presenting the video, practice reading the script in front of friends or colleagues to simulate the pressure you may feel talking to a camera. 
Video production
Once you have a good script and prepared speakers, you will have to shoot the video. Once the shoot gets over, the video goes into post-production. In the post-production stage, editing and finalizing is done.  
You will need to invest in some shooting gear such as cameras, microphones and editing software to edit and finish the video. Since this might be unfeasible for most firms and lawyers, it is advisable to hire a production team on a contractual basis. The benefit derived is that these production studios already have the necessary equipment of the best quality and are also qualified to edit and add the finishing touches to the video.
The difference between a self-produced video against a professionally produced video is often stark.  This difference may attract or repel viewers, especially in this age where even freelancers have access to professional equipment. However, if you still wish to shoot the video yourself, you can use software like Viewbix and Filmora – Wondershare Video Editor.
A common challenge that law firms face is preparing their lawyers for being on-camera. You can solve this problem by using animation in certain types of videos.
For instance, in how-to videos,  animation with a voiceover can be an engaging and alternative way to explain how something works in plain English.  
Video distribution channels
Once the video is ready, you will have to put it out there for people to see it. There are a few places that you should definitely post your video to maximize your views.
The first is the website of the firm, preferably on the main homepage, or under FAQs page of the firm when the video is an explainer and/or in the reviews section if the video is a testimonial. By and large, depending on the nature of the video it should be appropriately placed on the website.
Secondly, the video should be placed on landing pages. These are pages that a viewer finds himself or herself being directed to when they click on advertisements of the firm or of the services of the lawyer.
Thirdly, the video should also be uploaded to YouTube. This opens up the opportunity to drive viewers of the world's largest video platform to your firm's website.
Before posting on YouTube, make sure your video is optimized. This can be done by optimizing the video title to be attractive but at the same time, including the main keywords.
Utilize the video description to the fullest. Include your main keywords and expand it as much as possible to give YouTube a good understanding of the contents of the video. Add relevant video tags, including your keyword. These tags should reflect the content of the video.
To finish, mention your keyword in each video. YouTube analyses the contents of the video and matches it to the video description and tags. If your description and video content don't match, your rankings may suffer.
Finally, post it on all other handles of your law firm, including but not limited to, LinkedIn, Facebook, Twitter.
Measuring the success
Once you have identified your video distribution channels, assess how your video is performing. Google Analytics is a free application that shows you all that happens on your website, including location of your users, re-directing sites, length of viewing etc. It's free of charge and easy to use.
LinkedIn Analytics, Facebook Analytics, Twitter Analytics, Youtube Analytics etc. are  some social media tools which can help you track the performance of your video.
You can see what search terms are attracting more audience. Typically, structuring your topics as questions and using `how to' or 'why' increases footfall.
How many likes and shares did your video get on social media is also a good way of measuring its performance. Always write a short description of your video, before you share it on social media. Encourage people to ask questions. If anyone comments on YouTube, reply to them. The more interactive your video is, more audience you would attract.
The other important metric for measuring your video content success is the number of views and the duration of viewership. Were you able to retain the audience for a longer time? If yes, then your content is engaging.
Video content is gaining more ground as Cisco 2020 report predicts that video will make up 81% of all consumer web traffic. Video analytics, therefore, show you exactly where the client dropped off, how long they watched and which content was appealing to them the most. So no doubt creating nice video content is important but it is equally important to focus on the metrics to meet the marketing goals.
Takeaways
Increase visibility and convert users/viewers into potential clients. 

Build a vast base of social media followers and become a well-known face in the legal circles.
Attract diverse audience for your videos. Everyone from students to start-up founders should find something for them in your videos.
Digital presence can increase your reliability as a lawyer. If a user follows you on social media and has over time seen the legal insights you share, they would trust you more with their work than an unknown name.
Above mentioned are just some of the ways in which you can ensure that your law firm video marketing is on point!
Read more Guides on Digital Marketing for Lawyers
Digital marketing is the new traditional marketing! Read our guides on digital marketing for lawyers and law firms to get tips and strategy to grow your law practice in 2021:
We can help you with your marketing initiatives to generate more leads and get you more clients, contact us now and we will reach out to discuss your marketing strategy. At Altclik, we believe in moving ahead together and we are there to help you at each and every step of your marketing journey! 
Subscribe to our weekly newsletter below to receive the latest tips, strategy and resources to grow your practice.
This post was first published on January 28, 2022